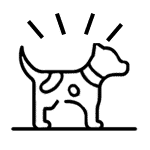 Out of control behaviors stemming from a lack of experience and guidance, too much recess and lack of clear boundaries.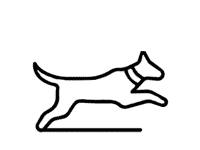 When puppies are given too much freedom, they make their own poor decisions and mistakes.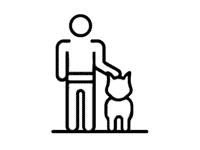 The 3-Step and structured time with their people helps puppies grow into well-balanced dogs.
Live in harmony with your dog!
Elizabeth, Doug and Cindy are fabulous to work with! We brought home an 8wk old puppy and realized we had so much to learn! Cindy was super helpful getting us set up with our first training session and answered my millions of questions for a long time the first time we talked! Then I had more questions, and Elizabeth spent a long time on the phone with me, walking me through the kind, pack leader approach to supporting our puppy's development. Finally we had our first training session with Doug, and seeing him with our pup was amazing. He clearly communicates with animals in a way I aspire to, and inspires me to learn their ways! And I continue to have questions, and they are always super responsive via phone and email, we are so grateful for their support! When we were first referred to Tenderfoot, I knew it would be a good fit for us because their philosophy is based on creating a trusting, solid bond with our puppy. This approach, though I'd never heard of it before, completely resonated with me and feels intuitive. With our other dogs we'd used treats for training, and I would find myself frustrated at times when our very obedient dog would come when called off leash and would not let me pet her until I gave her a treat. Now as we train our puppy, we are very intentional about the reward coming from the heart as we strengthen our bond with her. I did not know we could get the kind of response we are seeing with her without treats! It's wonderful, and we're just getting started, so we have so much more to learn! We look forward to learning everything we can from Elizabeth and Doug and we highly recommend them to anyone wishing to establish a deep, trusting bond with their dog!
We brought our Siberian home on a Saturday. She was 7½ weeks old. On Sunday, we took her to Doug and Elizabeth. In the first 30 minutes they had her sitting, coming and following basic commands. They have a marvelous way with animals, and a true understanding of how they behave.
This dog training is outstanding. This training method recognizes a dog's natural behaviors and teaches based on a dog's instincts. Our puppy learned instantly.
We met Elizabeth when our puppy was 10 weeks old. This is my family's first experience having a dog. During the very first session, Elizabeth left us with strategies we utilized multiple times throughout the day to teach our puppy positive behavior. Since then we have continued to meet with Elizabeth every few weeks to expand on our puppy's skills and behaviors. He is now 5 months old and we are so thrilled with his ability to respond to commands and with his leash walking skills. Her strategies are clear, concise and effective and we will continue to utilize her as our puppy grows. Thank you Elizabeth for assisting us in having such a wonderful experience with our new family member.