Celebrating a Job well done
Each month we feature dogs and their owners who are demonstrating remarkable training progress. At the end of a great lesson, we are always so happy to watch fearful dogs become comfortable, crazy dogs grow calm, and aggressive dogs find manners. We would love to learn more about your training success stories. Please feel free to share your great experiences and images with us by emailing [email protected].
2 Paws Up!! for Melba, Jerry and Sally
Melba is a goofy 9 yr old Bearded Collie. Fun note: Elizabeth's family was one of the first to bring a Bearded Collie into the US when they were still very rare here. Miss Melba's general goofiness was getting the better of her parents – Beardies are known for their goofiness. She is learning impulse control, great walking skills and lots of patience. We've been so pleased with her progress and her parents are learning some great line dancing with the "Out" drill.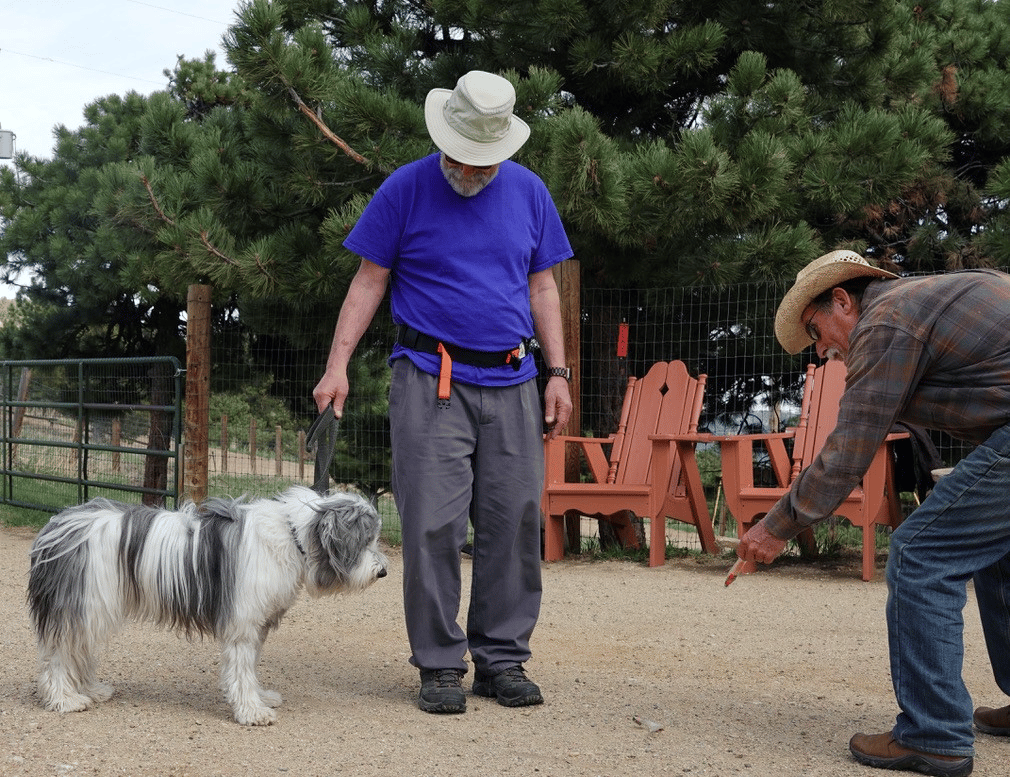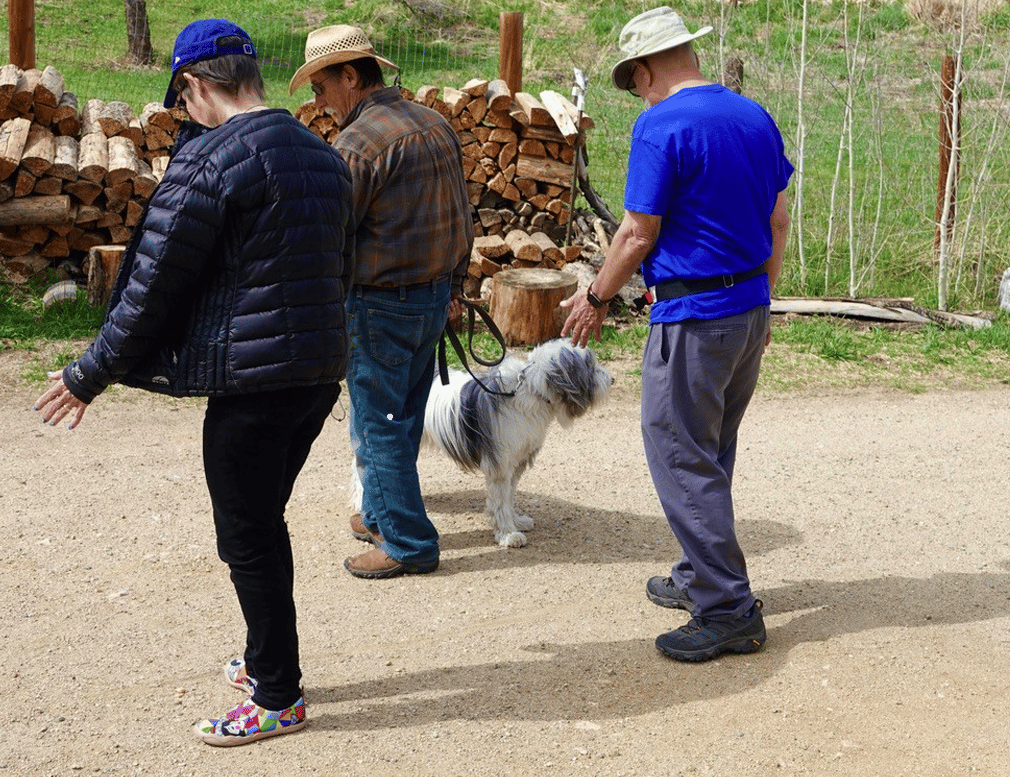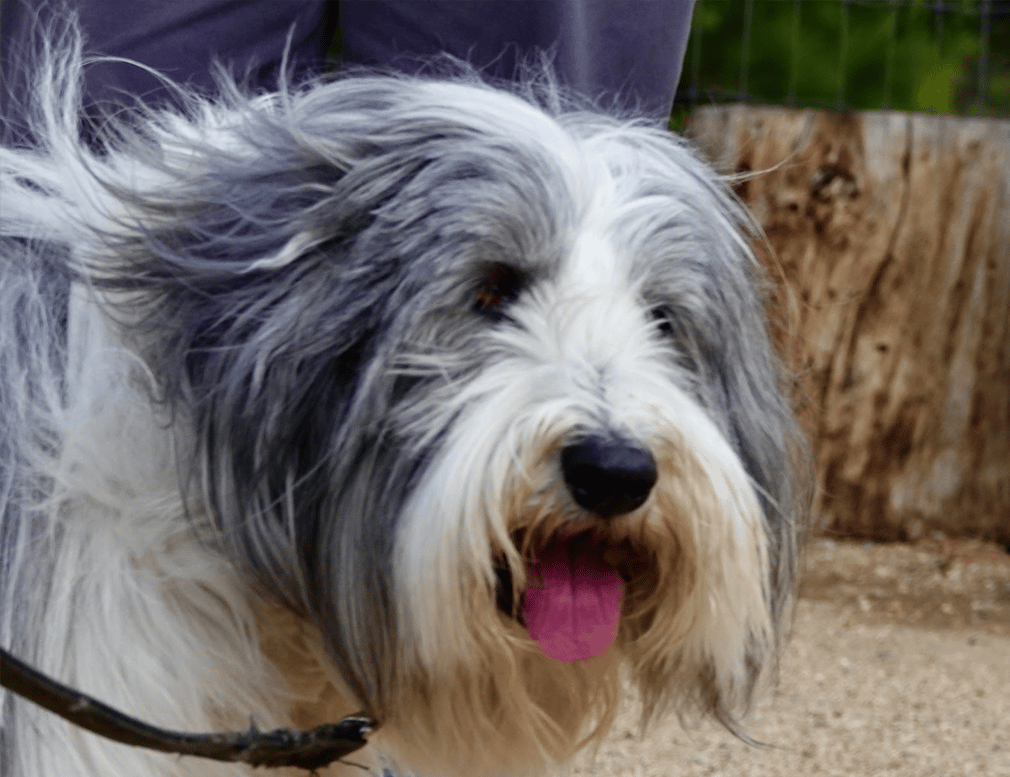 2 Paws Up!! for Everest and McKayla
140lbs of pure love, and ust look at those bangs! He is one big lump of perfection. As you can imagine he has learned to use his brawn to get his way with his super sweet person, Miss McKayla. She loves this dog so much she is willing to drive a long way to work just so he can live the high life in the country. That's devotion. Everest needed some help learning how to walk on a loose leash, and climb his special steps. He did a great job. He did it perfectly the second time, and never faltered again. Everest is a mountain of a dog and we had a ball helping his mom find a better connection and improve his listening skills.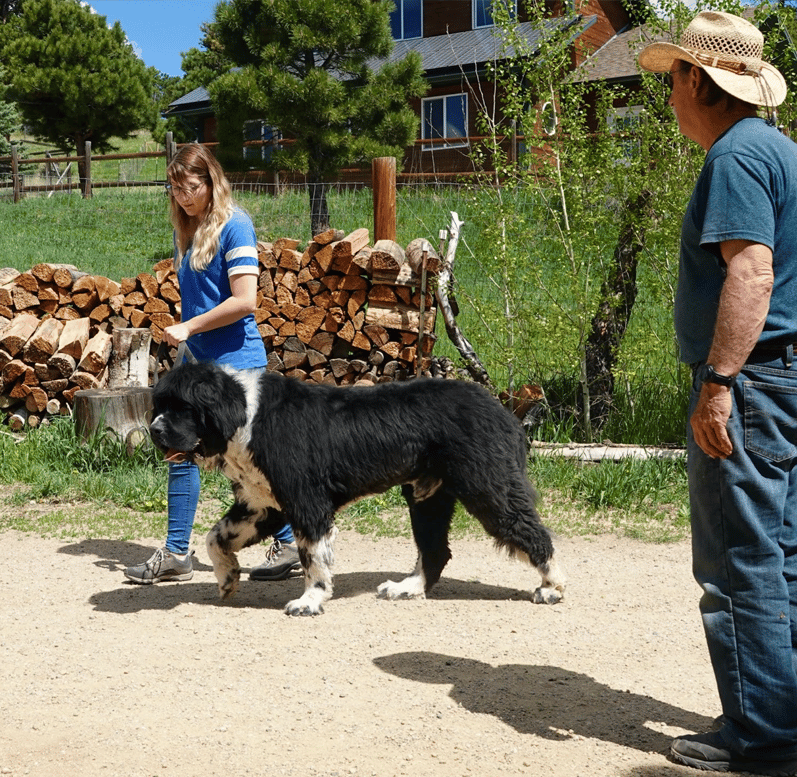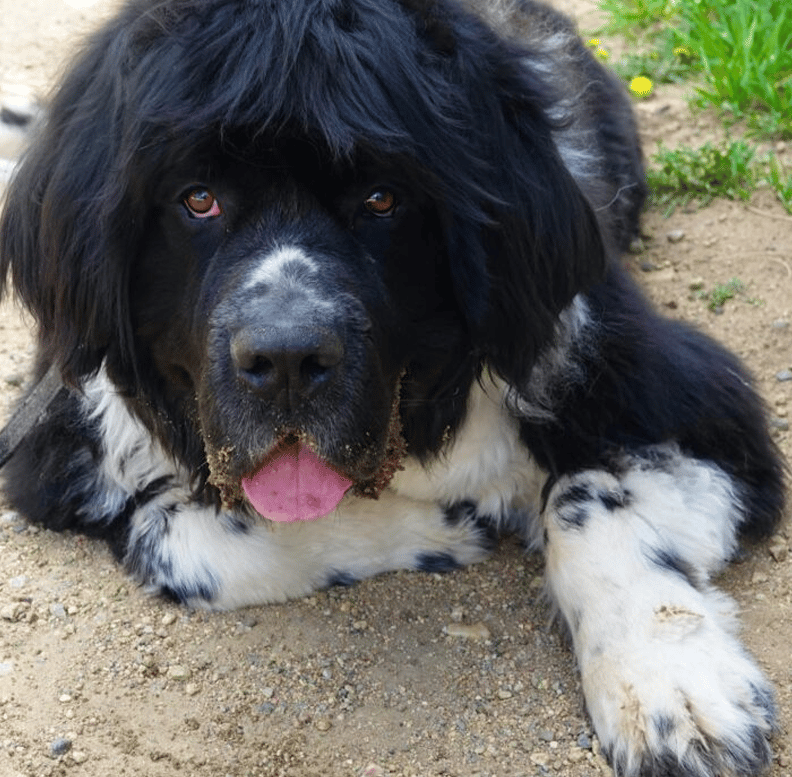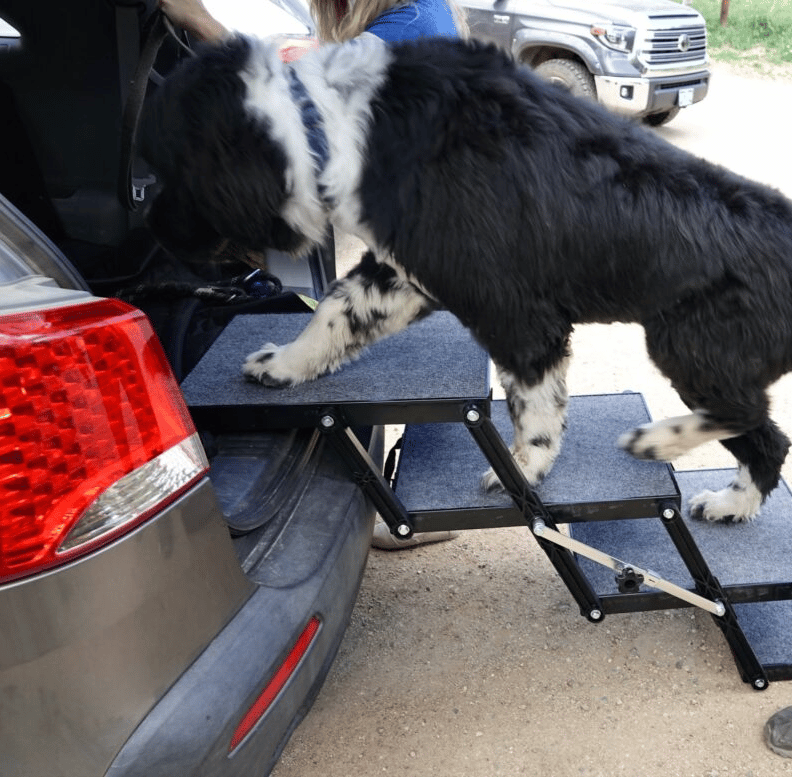 2 Paws Up!! for Ziggy and Lisa
This wonderful pair have been working on their journey together for just under a year. When we first met, the struggle was real. Ziggy is a sweet and smart girl, but her lack of boundaries and respect for others was fueled by a young, powerful body. Her enthusiasm was not subtle. At first we weren't confident they would be a match. Until we saw Miss Lisa in action, she was great at the drills and Ziggy fell right into place. Yes, they still have challenges, but they have come really far in their journey. Just look at them dance so easily on a loose leash, and everytime Lisa stopped Ziggy stopped on a dime. No voice, hand signal or leash needed. Ziggy mirrored Lisa's actions perfectly and gave her great eye contact. Well done team!!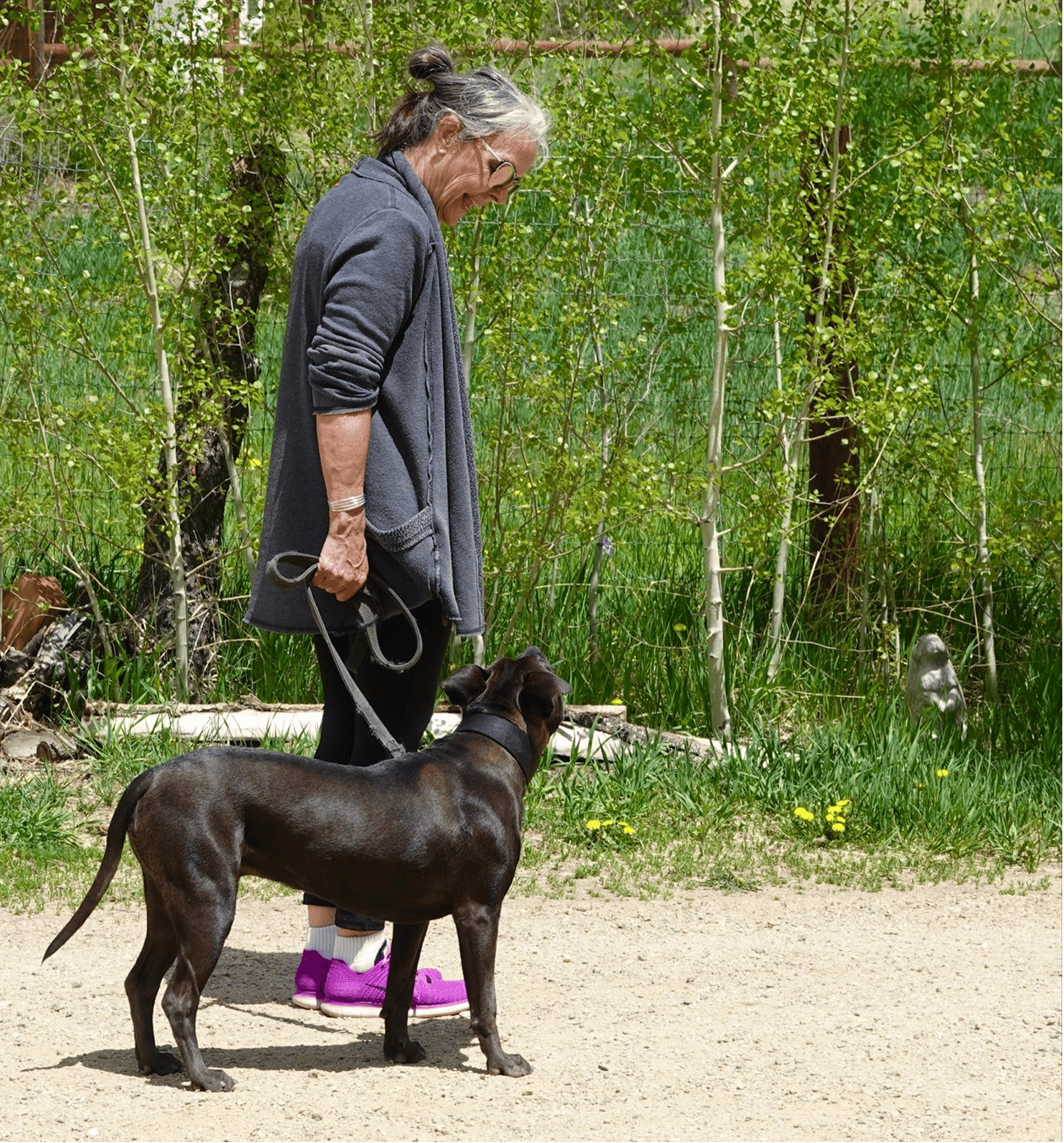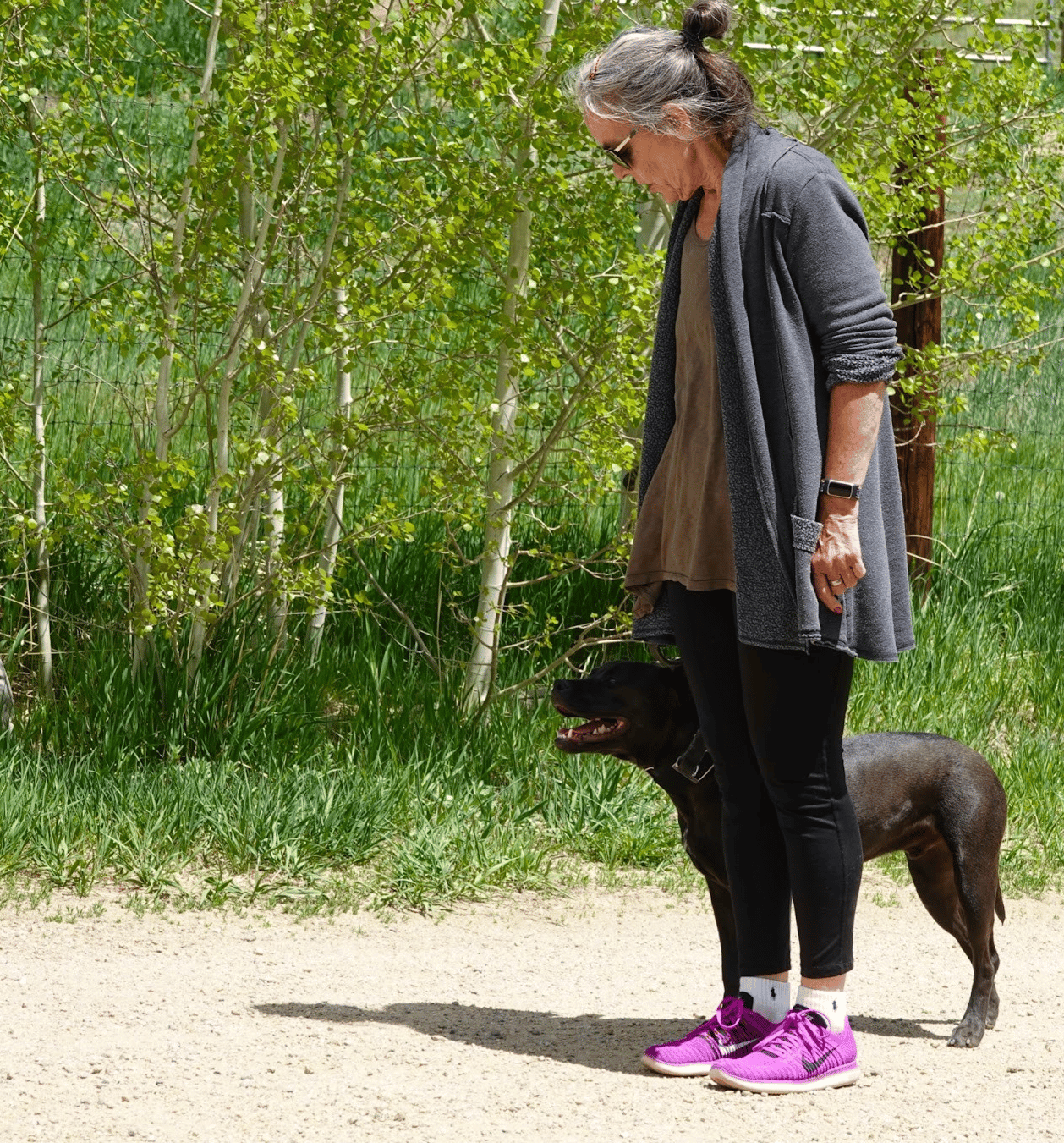 2 Paws Up!! for Joey and Sorin
Sorin was asked to pet sit at the last minute for 2.5 weeks.   Sorin did not know this household of animals very well so there is no past relationship to draw from.   One of the residents, Joey, bites when scared.  Joey is a terrified 2 yr old, 6 lbs Chihuahua.
Sorin was there for a week, and little progress had been made.  Joey wasn't able to trust Sorin, who is a very calm and loving person.  She was so terrified she wouldn't even look at the treats Sorin offered her.
Elizabeth worked with them for 2 hours – working on: approaching, touching, lifting, holding and Tenderfoot's puppy drills for mindfulness, calming and trust.  It took a little time, but Joey grew to understand no one was trying to hurt her, in fact interacting with humans felt good.  She was able to relax, enjoy, and even seek out attention.
Sorin said that night and into the next morning Joey was a different dog.  She was trying to engage with Sorin, cuddled with them, slept with them, stopped barking at them, and was delightful. They went for walks, and became real friends.  Happily ever after.
YAY!!! Joey & Sorin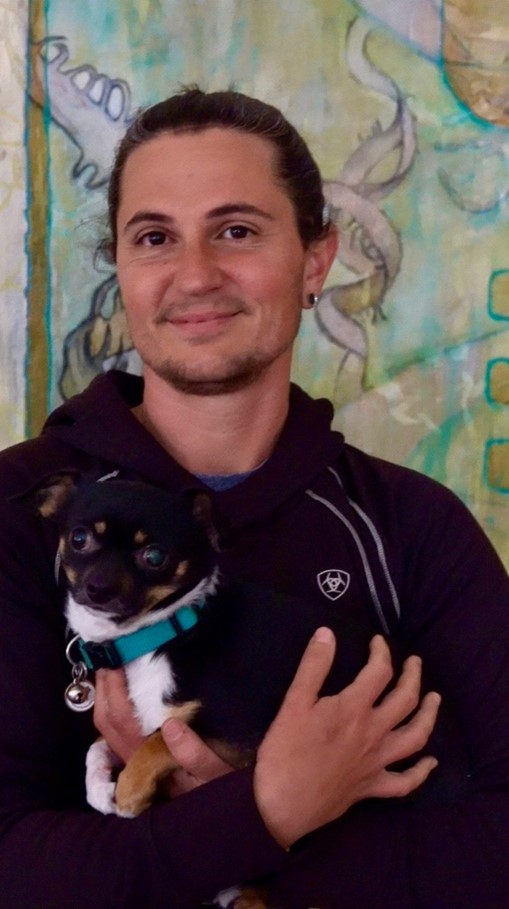 2 Paws Up!! for Odin, Kyle and Logan
Don't you love the mirror shots? He can't believe how handsome he is. Actually mirrors help with social interactions with other dogs. Especially when COVID is keeping you at home too much and your dog needs to see other dogs to get used to them.
His parents are doing a great job of socializing him during these tough COVID times. He's been visiting car dealerships (yes, you can take your dog to most car dealerships), hardware stores, and big sporting goods stores. He's learning the important skills of patience and impulse control. Odin is insanely handsome and most people can't walk past without wanting to say hello and his parents are teaching him NOT to expect to greet everyone who walks by. As important as positive socialization is, it's almost more important to teach your puppies to relax and observe.
His parents are excellent about asking most people to ignore him and only let 40% of the people actually stop and say hi. This way Odin is setup for success and isn't pulling against the leash to get at all of the people who glance his way. He is learning to observe the world without reacting to it, which will come in very handy when he is the park surrounded by squirrels and other dogs.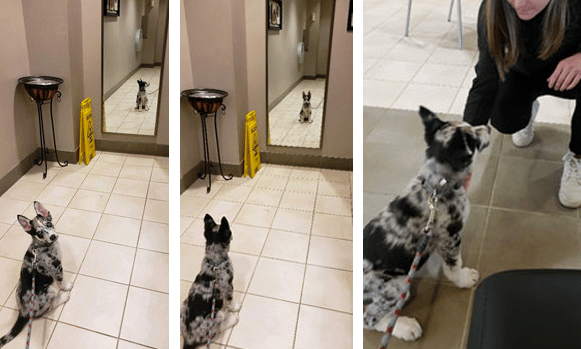 2 Paws Up!! for Paisley
What kinds of nature-inspired activities do you do with your dogs to engage them, build strength, or foster agility? Here's Paisley training with Doug on wood and rocks to increase her strength and foster agility. She's a natural!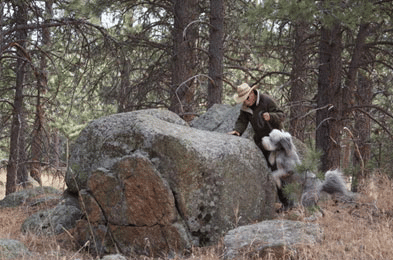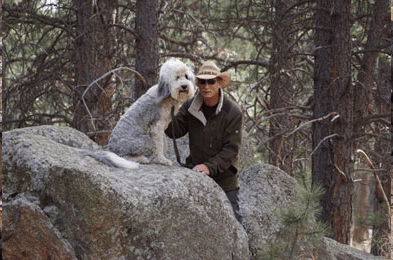 2 Paws Up!! for Teddy and Melaine
Teddy is a super star and excelled at his Farm Dog Test. Melanie and Mark do an amazing job keeping Teddy's skills sharp and constantly introducing him to new adventures. This training session was devoted to keeping Teddy calm around farm animals and helping Melanie maintain a loose leash. Well done everyone!!!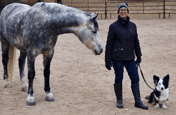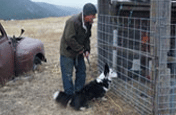 2 Paws Up!! for Kinji and Sarah
Kinji, a mini-Aussie, has a terrible habit of losing his mind when he sees another dog. Any dog, any time. He goes ballistic, and his family is struggling with his behavior in their busy neighborhood. During our first meeting we reviewed the Tenderfoot 3-step Drills, worked on calming Kinji through touch and the 'Show Stance' drill, then brought out a dog. Kinji was AWESOME!!! He was able to maintain a calm demeanor, and walk towards, behind, in front of and around Levi. To top it all off Doug took a walk with both dogs, and Kinji was amazing. He was completely comfortable, not reactive and able to focus on connecting with Doug. Very impressive job Mr. Kinji!