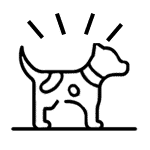 A dog creating uncomfortable pressure on the leash, sometimes with the intention to "get at " another person, animal or distraction.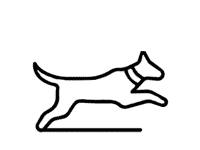 When the dog or person puts pressure on the leash and the dog is allowed to move forward, or the dog is always in front of their human leading the dance.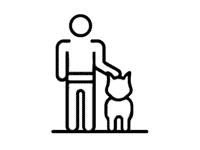 The Dance Drill ends all pulling on the leash and creates a smooth walking partnership.
Live in harmony with your dog!
Doug and Elizabeth are amazing. We have a 2 year old pound puppy that has always struggled with dog reactivity. I have trained marine mammals in the past, and was using the same standard operant conditioning (Positive reinforcement), methods that I used there. Duke needed something different and Tenderfoot was that. They don't train like any other trainers I have met. No harsh corrective tools, no treats for rewards. Their training solely focuses on your relationship with your dog. Over the last month we have seen a huge improvement in Duke's loose leash walking and even his reactivity, and our bond is closer than ever. This form of training does require you to put in the work, if you only practice once a week, you won't get the results you want. But the rewards are so worth the time. I cannot recommend Tenderfoot more highly.
Thanks to Tenderfoot!!! This is a GREAT BIG THANK YOU to Tenderfoot for the instructions on walking on leash. I have had trouble with Sam forever. He is soooooo strong that he can pull my husband off his feet. If I have leverage I am ok, but if he catches me off guard, I'm in big trouble! Classes haven't helped; he's great in class. It was my fault (no surprise!) since I got lazy with him and started walking him with a flexileash. Well, the past three days I have been doing the 'leash boot camp' and it is working!!! Thanks so much for your help on this site.
Thank you Doug and Elizabeth. After 5 years of Sable pulling like she was a pro sled dog, I can now walk her with ease, after people telling me there was no way to train a dog that has pulled for so long not to pull. I rarely took her for walks, as it was too embarrassing, she would pull and gag, and people thought she was trying to get at them, so she could bite them. After reading a lot of your posts, I was able to get her out of pulling in a less than a half hour. I can't believe it's the same dog. Now I can't wait to get home after work and take her and Zena all over the neighborhood. You two should be on TV. 
*Comment from a Pets.ca visitor who learned some Tenderfoot methods on the site and was able to make great changes.
We just moved to Boulder, and our reactive little schnoodle has been going nuts on the trails. He's a sweet dog but gets super reactive when he first meets other dogs. How lucky we were to find Tenderfoot; after only one three-hour lesson we feel very much on the path to a completely different relationship with our dog. It's not about his habits; it's about ours. Benson has been very responsive to what Elizabeth and Doug taught us, and we are looking forward to seeing where this goes. Unbelievably helpful. Thank you Tenderfoot!
We've worked with Elizabeth and Doug just a few times but we saw a difference after the first session. Before that session, someone told me, 'They are like the dog whisperer; they can do it, but that doesn't mean you can.'" Well, their true gift is that they CAN share their experience with very explicit instructions, steps, and tools to use that help us get the same response from our dog that they get. And they are eager to share what they know to help people like us who have a challenging dog and to help us improve our relationship with our dog so we can be a good leader. They have SO MUCH knowledge to impart that it is hard to absorb it all, but the videos have allowed us to go over it all again and again in detail, and I pick up something new each time. Every dog owner should watch these videos. I wish I had known about Tenderfoot Training when I got my first dog, but they will be a huge part of the relationship with every dog I have from Sadie on. Before our first session, I couldn't imagine going on a walk without the choke chain and even then, I was struggling to keep Sadie from pulling. I was even considering an e-collar. After the first session we were using a wide-webbing, buckle collar like they recommend and Sadie is right where she is supposed to be. It's not magic. It's a training approach that works, humanely. We are so grateful to have the opportunity to work with the Simpsons, and I highly recommend their training approach and video.