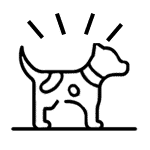 A dog who is not able to relax or enjoy a situation/environment.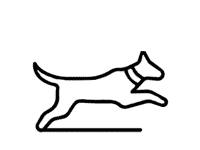 When a dog does not feel protected or safe. This can come from insecurity, lack of experience, negative past experiences, or lack of confidence in their people.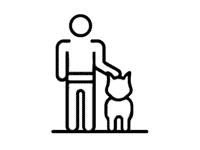 A confident leader has a confident pack. The more a dog learns through the 3-Step, the more confident the dog becomes in any situation.
Live in harmony with your dog!
I would like to thank you for the wonderful companion you have given me in Grayson, our 3-year-old Husky. Before I brought him in, I expressed my concern to you that we wouldn't be able to even make it through to the next day—afraid that even your training wouldn't solve our problem and we would have to return him to the rescue. To my amazement and delight I was flat out wrong. Even though I had some years of experience training animals before Grayson, I didn't know how much better a teacher I could become. It was a real breakthrough. In just one session I took home a different dog. I couldn't believe it. I had a new dog showing a real capacity to become a life companion. The result of our Tenderfoot training is a wonderful, loving, and playful companion. I never would have believed Grayson's transformation possible (any of it) if I hadn't been witness to it and participated in his training personally. Thank you from my heart for imparting to us the wisdom of your years and experience. People should know that if they are prepared to invest a surprisingly reasonable amount of time and energy, it is absolutely possible to transform a poorly trained animal, even a particularly difficult one, into a relaxed being, ready with respect.
I would highly recommend Tenderfoot to any dog owner. My dog is a rescue with challenging behaviors, fear and anxiety. Their approach has been effective, kind, humane and fundamentally different from most dog training and ownership strategies. Their lessons enable positive outcomes because they are focused on the aspects of the dog/human relationship that people miss or don't understand. In fact they can distill down dog ownership into a few simple exercises that reshape the dog and the owner and charter a better course for both. These folks are gifted with animals, care deeply and have excellent strategies.
I rarely review businesses online, but I absolutely had to leave one for Doug and Elizabeth. Our rescue was extremely traumatized when we got her and when we took her out to Tenderfoot she was very very nervous. Doug was unbelievably good with her and immediately after the first session we recognized that we were able to communicate with her and understand her much much better than we had before. The philosophy that they use to teach dogs and humans is coherent, simple, and based on developing a relationship with a dog, not using treats or dominance tactics. They have the most beautiful backyard that your dog will feel safe in and that you will enjoy during the training. They are very helpful in between training sessions on the phone as well. I would recommend they are training service to anybody I know! Give them a call you will NOT regret it.