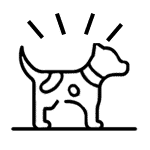 A dog who destroys furniture, belongings, yard, doors, etc. These behaviors can happen when their family is home or away.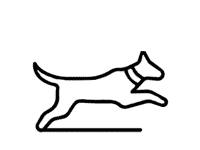 When a dog is anxious, bored, frustrated, scared or has too much pent-up energy.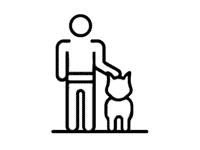 Stimulating a dog mentally, emotionally and physically with various applications of the 3-Step creates a calm dog. Crate training can also be very helpful to keep the dog and your things safe until this is resolved.
Live in harmony with your dog!
Before I worked with Tenderfoot, I always thought that Ndjumbo's bad behavior was a reflection on her past and her personality. Now I understand that it was a reflection on me, and in order for Ndjumbo to be different I have to change what I am doing. Tenderfoot has taught me to make great changes in myself and Ndjumbo.
I took my dog to Tenderfoot a couple of years ago, before I even knew about Yelp. They are the best trainers. My dog and I had fallen out of good graces after she ruined my computer, and Elizabeth worked with me to regain respect and trust in our relationship. It sounds hokey, but it is the real deal. My dog behaved a million times better after leaving. I forget how many words a dog can learn, but my dog learned the names of her different toys, different rooms, and several other commands like, "water," and "potty." These people really work with the humans and less with the dogs, which is what I needed. Honestly, I think it was that training, in combination with basic obedience, and crate training her that made her an amazing mammal to be around.