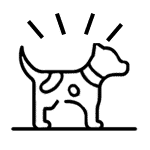 It can start as ignorant play, but soon the dog controls the world around them with their teeth and dangerous guarding/protective behavior can develop that must be dealt with through training.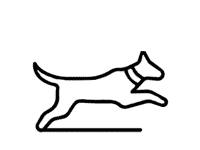 When there's lack of trust/respect in the dog/human relationship and biting / snapping/nipping has worked in the past so they continue doing it.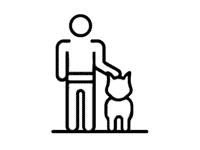 The Out Drill applied throughout the day can stop the dog's biting, snapping, nipping thoughts before they act on it.
Live in harmony with your dog!
Thanks for your quick response and expertise. Since you've left, Josh is a different pup. The entire snapping, aggressive response has been eliminated. We took Josh shopping where he met several dogs during his journey and dozens of people who all had to hold, pet and touch him. He was a very good boy the entire time. He was exhausted by the time we got home, but it was a very successful venture. We've also been putting the collar on and off of him since you left with no issues whatsoever. So I guess it took the deft hand of a pro to fix our problem (one I thought was going to be huge but turned out to be extinguished in 60 minutes with you). You are our Dog Whisperer. Thanks!
I was trying to figure out how to get our bossy, mouthy and aloof puppy re-homed, but someone suggested that I needed to try Tenderfoot Training first. We had already done a lot of work with other trainers: puppy kindergarten, click and treat, board and train and even considered an electronic collar. No matter what we did, Hector remained difficult. We never enjoyed his company because he was always unpleasant and challenging. We were desperate, so we gave Tenderfoot a call. When I spoke with Elizabeth I felt there was hope. She, quite literally, came to our rescue. She insisted that Hector was a great dog and I decided to give training one more chance. As soon as the family got with the Tenderfoot program we saw incredible results. The trick: love, trust, respect and consistency. We have been very diligent in our training and he is now extremely well behaved, kissier and has become a loving member of our family. I never thought we would be able to say this but he is now the most well behaved dog on the trails. People know him by name and are anxious for him to play with their dogs. I drop Tenderfoot's name whenever possible as I truly believe they are the best trainers around. I think what I like best about Tenderfoot is there are no bells and whistles. There is just love, trust, respect and consistency.