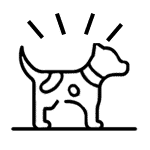 Attention-getting behavior to alert you to something, or they're uncomfortable about a situation.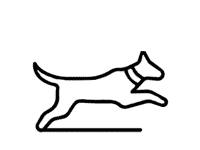 When a dog is trying to get attention, is frustrated, and/or is acting out to get rid of someone or something.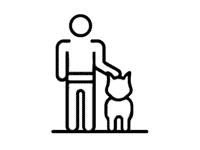 Learning to trust their people helps dogs stop reacting to others. Properly timed cues disrupt barking and whining and encourage the dog to watch the world instead of reacting to it.
Live in harmony with your dog!
Tenderfoot Training has made such a difference in our lives. We have tried everything from pinch-collars to electric bark collars on our two dogs. We have a busy household that includes the dogs and two young children. The principles Doug and Elizabeth taught us have not only solved our problems but also enhanced our relationship with our dogs. Our 4-year-old daughter has even learned the training methods. Thank you Doug & Elizabeth for your dedication to our furry friends.
Elizabeth worked with our out-of-control Chiweenie for an hour, and he stopped alarming at cars uncontrollably, stopped growling at everything, and stopped snapping at the puppy. We have been at our rope's end with him. Now, he doesn't even flinch when cars go by. He was really crazy, and she brought him back to us! He's also so much more settled and happy. We've worked with Elizabeth in the past, and would call her for any situation. We also have a new puppy, and will be working with her to socialize him into the pack of 3. Thanks, Elizabeth!
You are miracle workers!! What happened to Scooter's evil twin, Skeeter? Oh my god today was amazing. Lars and his mom came over and we followed all of your suggestions (after practicing several times during the day). No growling, no snapping, no jumping. Lars walked around (I kept Scooter leashed) and Scooter just nosed him, took toys and food that Lars offered and so on. We took a long walk this evening and he was on a loose leash the entire way. I only had to correct him a few times. On our walk we encountered a couple with a very large aggressive dog that they had no control over. I suggested that they call you immediately. Anyway, I will continue to practice religiously and thanks for everything. I do believe even John is a convert!