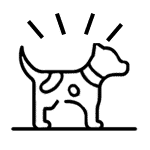 A dog who is uncomfortable with a situation due to lack of experience or negative past experience, they can also be naturally inclined to fear and insecurity.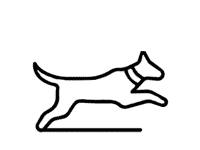 When over-bonding with others, lack of relationship with others, the relationship is out of balance, lack of experience, and either not enough or too much emotional/mental stimulation.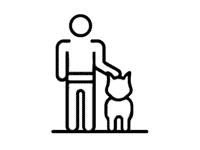 The 3-Step helps balance the relationship, build confidence through understanding and inspire dogs to always look to their human for guidance.
Live in harmony with your dog!
Tenderfoot is Doug and Elizabeth. This wonderful, wonderful couple taught me more about myself than training my dog! I have a 10-year-old dog that's a rescue. He comes with a lot of challenges. He could not walk into any unfamiliar house or store. He freaked out about floors, especially tile and linoleum and concrete. My goal was to get him to comfortably walk into any space in any store. In one session, they had him seated and so focused that they would throw food around him and he would not move to get it. By the fourth session, I could take this old dog and walk him into any establishment on any flooring. They opened up a whole new world for my dog. And now I can travel across the world with him. These two went above and beyond. They undercharged and over delivered. They are the nicest people. And their method works. I cannot endorse them enough.
I would highly recommend Tenderfoot to any dog owner. My dog is a rescue with challenging behaviors, fear and anxiety. Their approach has been effective, kind, humane and fundamentally different from most dog training and ownership strategies. Their lessons enable positive outcomes because they are focused on the aspects of the dog/human relationship that people miss or don't understand. In fact they can distill down dog ownership into a few simple exercises that reshape the dog and the owner and charter a better course for both. These folks are gifted with animals, care deeply and have excellent strategies.
We called on Tenderfoot Training to help with training our almost 3-year-old anxious Old English Sheepdog and a newly adopted 3-year-old Newfoundland who spent much of her life in a crate and never had socialization, leash, or even basic training. In order to set our growing canine family up for success, we decided it was time to have formal training to help both dogs. My first interaction with Tenderfoot was with Cindy, who returned my call within hours of me leaving a message. Cindy took all of my information and did an initial intake questionnaire taking great care to answer all of my questions and listen to all of my concerns about the two dogs. Our sheepdog mix was the more immediate concern because of his anxiety, which had presented with him sometimes nipping at people who came to our home. We made arrangements for one of the trainers—Elizabeth—to meet us at our home on a Sunday morning to train in our backyard. (Note: With Covid-19 and 3 young kids at home, this was a great set-up for our family.) While our training session was booked for two weeks due to the holidays, Elizabeth called the day after booking and spent considerable time on the phone giving guidance on how to deal with some immediate issues we were having with the new rescue. The Newfie was extremely hesitant about both the crate and riding in the car and also had some separation anxiety. Elizabeth gave us some tools/drills to work on to overcome these. Where I had to previously wrestle/nudge/coax/push/shove the 100 lb. black furball up into the car, within a couple of times of using Elizabeth's methods, the Newfie was jumping into the car immediately. When she came to our home for the first session, our sheepdog was on edge, but within a matter of minutes, using her calm, consistent methods and drills, he was sitting quietly next to her and looking for her commands and approval. She spent considerable time talking with us and explaining the Tenderfoot philosophy and applying it to the various concerns we raised about our dogs' behavior. We worked on three drills that are the foundation of Tenderfoot's method, and I almost forgot to mention that there are no treats involved. (Our sheepdog never responded to treats outside of the home because he was always too anxious and focused on what was going on around him, so this was great for us!). We immediately booked our next session after finishing our initial session. After our second session, we saw the work we were doing in action when a contractor came to the house, and my husband worked on one of the drills with our sheepdog mix. Where he previously would have run up to bark or nip at the contractor, by using the drill, he was able to sit calmly in a separate room. It has been affirming to see these results so quickly. We intend to continue our sessions for a while to help both dogs become the best versions of themselves, and we are slowly integrating our 9-year-old into the training. Elizabeth has been great at including him, too! I highly recommend Tenderfoot if you are looking for training that goes beyond getting your dog to sit, stay or simply walk well on a leash. The training goes beyond this to help you form a relationship with your dog of great mutual respect