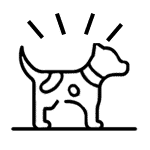 Assertive or aggressive/angry behavior towards others is a huge problem that can only be resolved by proper training.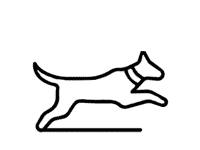 When a dog is fearful, reactive, too confident, inexperienced, independent and/or insecure.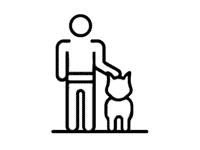 Specifically, the Out Drill can solve aggressive behaviors in just a few sessions by teaching dogs to respect others and not overstep boundaries.
Live in harmony with your dog!
In October, we adopted a 7 month old Doberman who had undergone a very recent front leg amputation. Neither my husband nor myself had any experience with a Doberman, or a puppy, or an amputee prior to this, so life was a bit challenging. Plus, I ended up developing a skin allergy to him that was limiting how much physical contact I could have with him. Enter Elizabeth. We went for our initial session very soon after the adoption and then had to take a few weeks off. By the time we were back for our second session, things had gone downhill greatly. Elizabeth asked me to describe myself in 3 words and based on my word choices she knew exactly why we were struggling so much. Our time with Elizabeth is almost like family therapy.
Our relationship with Oskar (our pup) has deepened, but so has the relationship between my husband and myself. We are learning so much about each other through our training sessions. Recently, Oskar started showing aggression at feeding time and when he had special bones/chew toys. It got to the point where I was very scared of him, hated to be alone with him, and I was very seriously considering rehoming him. Again, Elizabeth saved us. She taught us ways to feed him and how to use the chew toys that would prevent the aggression. Within a couple days of this particular session, I was back to feeling safe around him and our relationship was growing. We still have a long road ahead as we all figure out this new life together, but I am finally feeling confident that we will get there with Elizabeth's guidance. Also, if you have any doubts about the Tenderfoot Training, just take a look at their own dogs. We got to see Doug with one of their dogs at our most recent session, and it was a thing of beauty!
I was starting to feel extremely helpless with our dog. From the beginning things were difficult – he was a stray, in the shelter for a while, transported around, likely been abused, etc. He was overly excited, had attacked us multiple times, and I could barely control him on the leash. I'd cry during the afternoon walks. He recently started catching squirrels and chasing coyotes! It was getting bad, bad. So it was with a heavy heart that I went up to meet Elizabeth & Doug. Within minutes my dog was listening to Doug and staying near him on the leash–without fighting, jumping, biting, tugging, attacking. In the almost year we've had our dog, I had never witnessed anything like this. I nearly cried. And it only got better. We had been to multiple trainers, but they all seemed to be tiptoeing around the issues with treats, games, distractions, etc. What Tenderfoot does makes complete sense. It feels right on a deep, deep level, but it is hard work– changing habits and dealing with frustration. I'm reminded of the importance of MY relationship with Happy…and I've been given the foundation of how to work on that. For that alone, I am so so grateful and then on top of that I've been given tools and techniques to improve that relationship. It has been 3 days. Happy is a completely different dog. He's a little more focused on me, he's calmer, he is no longer attacking my husband or jumping, biting, or getting crazy.
Tango was a crazy 1-year old rescue when we got him. He couldn't walk on a leash, he barked at everything that came within 50 feet of our house, he jumped on everyone and was completely unpredictable in his reaction to other dogs. Two hours of all-out running everyday were barely enough to take the edge off. Tenderfoot taught us how to communicate with Tango so he understands what we want from him. They taught us how to anticipate his behavior so we can give him guidance before he pulls or jumps so we can prevent unwanted behaviors. Most importantly, they taught us how to introduce him to other dogs. He is now easy to walk, gentle with our friends (great with kids), and able to play with other dogs. Thank you!
Thanks to your video, Jazz is progressing very well! Since the incident with the cat and small dog, she hasn't had any interest in ripping Murph or Bugs from my arms! I know now, Jazz and I will have a good relationship for a long, long time. We both have come a long way in a short period of time. Many thanks to you!!!
Murphy continues to be the best dog ever. Perfect—no—but it's astonishing how well we are getting along and how his aggression issues have improved. He can absolutely read my mind, though I'm not as good at reading his! Again, all thanks to you!
I have a 2-year-old, 100 pound black lab/mastiff/rotty who was a bully. Not anymore 🙂 They rehabilitated him and trained us. Doug and Elizabeth are the best!
Elizabeth worked with our out-of-control Chiweenie for an hour, and he stopped alarming at cars uncontrollably, stopped growling at everything, and stopped snapping at the puppy. We have been at our rope's end with him. Now, he doesn't even flinch when cars go by. He was really crazy, and she brought him back to us! He's also so much more settled and happy. We've worked with Elizabeth in the past, and would call her for any situation. We also have a new puppy, and will be working with her to socialize him into the pack of 3. Thanks, Elizabeth!
You are miracle workers!! What happened to Scooter's evil twin, Skeeter? Oh my god today was amazing. Lars and his mom came over and we followed all of your suggestions (after practicing several times during the day). No growling, no snapping, no jumping. Lars walked around (I kept Scooter leashed) and Scooter just nosed him, took toys and food that Lars offered and so on. We took a long walk this evening and he was on a loose leash the entire way. I only had to correct him a few times. On our walk we encountered a couple with a very large aggressive dog that they had no control over. I suggested that they call you immediately. Anyway, I will continue to practice religiously and thanks for everything. I do believe even John is a convert!
My dog, Roscoe, was anxious and aggressive with people/animals, had separation issues, and didn't listen to me. Roscoe was in a New Jersey shelter for 4 years because of his aggression. By teaching me how to communicate so that my dog understands and listens to me, Tenderfoot Training has changed our whole relationship, and the whole dynamic of our family. They showed me how to pick up on clues that I was not even aware of to help my dog navigate situations that would have previously set him off. He is now well behaved, loving, joyful with everyone. I am so thankful to have found their guidance.